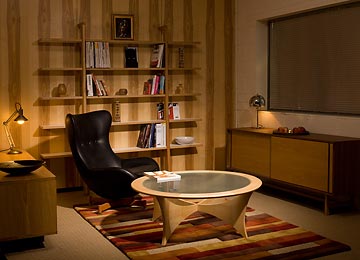 the cork showroomHorizon Furniture creates cool, calm, elegant and practical furniture that's designed to be beautiful and built to last.
Horizon Furniture was founded in 2008 by Fergal O'Leary with a desire to make modern furniture that has an extra something to make it stand out from the crowd. Inspired by everything - including woodwork technique, children, architecture, Hans Wegner, funk music - Fergal's designs have evolved to be a pure marriage of elegance and practicality, remaining true to the idea that Horizon's furniture should be beautiful, functional and made to last.
Horizon Furniture has a range of award winning furniture designs that are available to view in our Cork City Studio. Most of our work is made to order. As such we can vary the overall dimensions, finishes, colours and configurations to suit our client's needs, whilst always ensuring the core of the design is respected. All of our designs are manufactured from start to finish in our workshop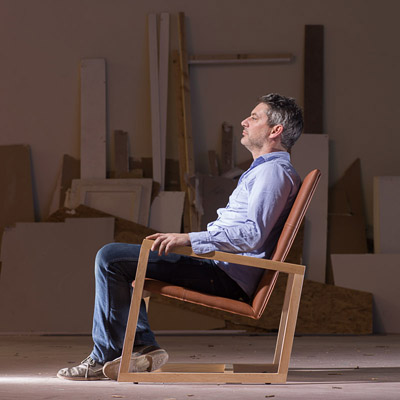 Fergal O'LearyBespoke commissioning is our core business, where we work closely with a client producing special customised pieces for the home or for commercial applications. If you have any questions on the feasibility of commissioning a bespoke piece please call us at the studio and we will be happy to talk through your ideas.
We work with hotels, serviced apartments, restaurants and contractors on larger schemes that require Horizon Furniture pieces designed and manufactured exclusively for their projects. If you would like to discuss our approach to larger projects please call.
Fergal O'Leary (b.1974) eventually arrived at furniture making after many years spent playing music. After a brief stint in furniture college Fergal started work for a cabinetmaker where he initially learnt cabinetmaking technique. From those early learnings Fergal realised that technique is knowledge and set about educating himself about design and manufacture processes. The ability to apply new techniques in practice meant he developed a keen understanding of methods and materials - from the selection of timber to the application of appropriate finish.
Designing both for repeat production and bespoke manufacture, Fergal believes that handcrafted pieces of furniture tell a longlasting story from designer to maker to eventual owner.
exhibitions and awards
2013
jan-apr celebration of Irish Craft for Irish EU presidency in Justus Lipsus Building, EU Headquarters, Brussels
july CCOI commission Wenge jack table
aug Cruth Exhibition, Kinsale
sept Locus: Cork Guild of Furniture Makers Exhibition, Cork city
oct shortlist, best handmade product, IDI Awards
nov irish craft portfolio exhibition, RHA Gallery, Dublin
nov Furniture Exhibition CIT Architecture Factory, Cork
2012
CCOI commission set of maryjane chairs for "a place to gather", London Design Festival 2012
Irish craft portfolio
IADA Fair, RDS , Dublin
Voted 25 best Irish design House and Home magazine
locus: Cork Guild of Furniture Makers Exhibition, Cork city
2011
IDAF, RDS, Dublin
Design Island Pavillion, Tent, London Design Festival 2011
top 100 irish designers house and home
Cork Craft Month exhibitions at Fota House and Kinsale, Cork
locus: Cork Guild of Furniture Makers Exhibition, Cork city
news
for up to date information and news check us out on facebook, twitter and linkedin.
we have irregular special offers and competitions.